Review of WorkWithinWork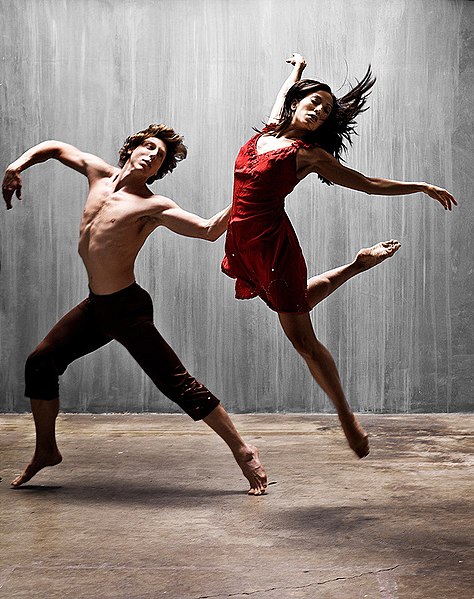 If you haven't noticed yet, likely in in this day and age, the Bockenheimer Depot in Frankfurt is currently hosting the contemporary Dresden Frankfurt Dance Company. The current piece is called WorkWithinWork, a contemporary piece choreographed by Jacopo Godani. May I say a truly masterful choreographer, but that's just my humble opinion. If this article will make you want to jump into your dancing shoes and flit to the theater, they're going to perform until the 29th of October and then again from the 2nd until the 4th of November. Student entry costs 20€ and adults 38€. Worth every cent.
There were 14 dancers in all with six men and eight women. The performance was divided into 2 halves with a ten-minute intermission. They were completely different, but I have to say, I did like the first forty minutes more. All the women danced on tiptoes, making the production even more intense. It was a raw, almost ballistic performance at times. Even though it didn't tell a story as a classic ballet does, for example, the Nutcracker or the never-dying Swan Lake, it was absolutely intoxicating from the first second until the very last. String instruments accompanied the first half and the dancers enveloped the music with each of their movements. Godani grouped them in solos, duets, trios and so on and so on, but somehow they always seemed interconnected, emphasizing the Title WorkWithinWork. I thought that those two dancers were dancing together just to realize that now those two were dancing together, creating such smoothness to the choreography. The audience could see each muscle, from fingertip to toe each one was as tense as an electrical wire. There wasn't a lot of groundwork before intermission, with lots of lifts and jumps seeming like each of the dancers were as light as a feather. The movements were modern almost snake-like creating this natural, human air around the production. I have to be honest; sometimes they did remind me of one of those inflatable tube men that stand outside of supermarkets and wriggle in the wind. However, I feel like that makes this performance so different from other contemporary productions as it created an atmosphere of mystery, you never knew what would come next, would it be two dancers fighting with each other, or in an intimate flight.
The second half shocked me. The music accompanying each movement was mostly electronic noises fitted together like a puzzle. While the first half was all movement, this was quite the opposite. Godani played with the light in such a way that you never knew where the dancers would show up next, leading to adrenaline pumping through you. Contrasting to the first half the amount of groundwork of done in this half was astounding. This half of the performance exuded an air of powerfulness and authority. There was also a lot more group work and more simultaneous movements happening, however, they weren't as fluid as in the dance performed before intermission. I got the feeling of the dancers channeling their inner ant robots. Perhaps I got that feeling because of the more rigid movements, flexed feet and all. Those movements combined with the music and lights I might have whispered to my mom a bit hysterical 'Oh my god this is terrifying.' No one in the audience could look away from the stage; it was exhilarating, the sweaty palms, and jittery legs kind of exhilarating.
I personally enjoyed the first half more, perhaps because I do enjoy classic ballets a bit more than contemporary ones and the first forty minutes were more traditional than the second. My mother, however, was thrilled a lot more by the second half, whereas I thought a UFO would come to get us at any second.
All in all, I wouldn't have wanted to spend my Saturday night any differently, and if you have the chance to see this intoxicating performance before the Dresden Frankfurt Dance Company packs up, I assure you, you will leave the theater in a trance.
Leave a Comment