The Wonderful World of School Activities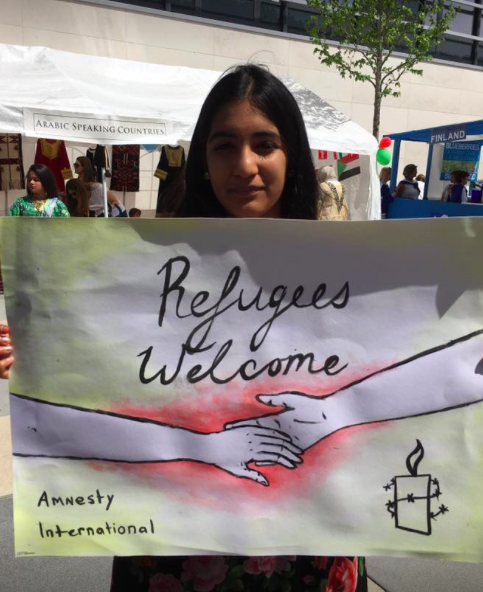 As students at school continue to create more service groups and clubs at school surrounding different issues and different people's interests, it is important for there to be a place where people can track different clubs and service groups for people to be able to remember how to join them, what age group their targeted at, and where to meet.  Therefore, this article was created to help students cultivate one of their interests through joining a club or service group at school.
Regenbogen House:
Meeting after school on Wednesday, the Regenbogen house members from grades 9- 12  meet at bus 20 or 21 and are driven down to the Regenbogen House, a children's home where they meet the teens. There, they meet kids from different backgrounds aged 14-16 and partner with one of them to tutor them in either English or German. At 5 p.m a return bus is sent to  the children's home from the school to return members to the campus. Unlike other service learning groups who raise money for their cause, the Regenbogen House helps kids through giving their time and effort to see over time how they are able to help these kids in English or German and build relationships with them. New members are always welcome to join and may email Vivian Roisko for further details. @[email protected]
Well:
Run by Ms. Donnelly, the Well is a collaboration of works from different artists. These works comprise  of poems, prose, art, and photography. The Well members are students from grades 9-12 assess different pieces of art to add to their publication of works during their meetings which are held on H-Days during the beginning of the 9-12 lunch. People who are interested in being part of this publication need simply to contact Ms. Donnelly. Moreover, if students wish to feature their work in the publication, they do not have to be part of the Well team but simply need to send their work in for assessment.
Refugee Project:
A club started to help refugees coming from countries like Syria and Iraq integrate into society, members of this club help refugees by providing them with necessities and help them learn the language. During their meetings which are after school on Mondays, they meet at the refugee camp in Kupferhammer. Students who wish to join the club in grades 9-12 to help the refugees, need to contact Charlotte Eckel and Emma Banach @[email protected] and @[email protected]. If contacted, they are willing to show new members the way to the camp and introduce them. At the camp, members play with the refugees and help them learn the language. Through meeting with the refugees, students are put in a different mindset and more grateful about their lives. From joining this club, students learn about different cultures and are able to help others.
Amnesty International:
For anyone keen on human rights or politically interested, in Amnesty International, members are able to help those whose human rights
have been infringed upon worldwide and call for urgent action. Action is taken in this group through planning upcoming events, writing letters to houses
of government, calling for action for those in need, etc.
For students in grades 9-12, anyone interested can meet in room 314 on H days at lunch from 12:00 onwards.
Kalahari Experience:
Every year a trip is taken to the Moshaweng Valley in the Kalahari Desert in July for 2 weeks for members of the Kalahari Experience. During their trips there they get to know the students there through spending time with them in the classroom.  Those who attend these trips come back with a different outlook and are more grateful for what they have.  From 11:45 onwards members meet in the auditorium and separate into different groups which each focus on their own project to help the students in the Moshaweng Valley. The Kalahari Experience is a group which aims to provide the best possible future for the children in the Moshaweng Valley through supporting the education of the students there and improving their quality of life with their several projects Kalahari Experience is always welcome to new members who wish to support the education of the students in the Moshaweng valley. Although, this is a 9-12 club, students who wish to help need simply to contact Anna Ramsay and Anna Scherpenhuijsen @[email protected] and @[email protected]
Model United Nations:
An academic simulation of the United Nations, students in MUN take on the roles of foreign diplomats and participate in a simulated session of a committee apart of the UN. Meeting after school on Mondays in the auditorium from 3:30 – 4-45, meetings vary as some days students learn about different aspects of MUN such as how to write a resolution and other meetings we run a mock conference where we in a committee debate on an issue from the perspectives of different countries. However, when students are preparing for a conference they work on their resolutions and policy statements with input from teachers. Run by Ms. Nater, Ms. Nussbaum, Ms. McCluskey, and Ms. Marquand the MUN club is always willing to take in new members as overtime students will able to learn the ways of United Nations style of debate through participating other students and learning about MUN during meetings. current events, gain skills in public speaking, and skills in debating.
Girl Up:
A campaign of the United Nations Foundation, all proceeds gathered from fundraisers held by Girl Up go towards helping impoverished adolescent girls. Besides helping girls from third world countries the group also wishes to empower girls in the local community and tackle female issues. For students who wish to help and empower others in grades 9-12, come to meetings on G-Days in room 362 from 12:00 onwards.
Student Ambassadors:
Behind the birthday program which celebrates every student's birthday in grades 6-8, and the RAOK quotes which provided every middle school student with a positive message, and the anonymous advice blog "Ask an Ambassador", this group of students wish to make the life on campus happier one smile at a time. For other students in grades 6-8 who share our view join us on D-days at lunch in the conference room by the library or in the counsellor's rooms.
Poland Drive:  
Dedicated towards helping a children's home in Kolbaskowo, Poland, this group carries out two visits a year to the home for members to bond with the children and see what an impact they're making on their lives to giving their time towards helping them by providing them with materials, clothes, and most importantly love . Meeting on Tuesday at break in Mr. Brown's room in the Stroth Center , newcomers interested in helping others are always welcome.
9-10 Math Team:
Meeting this year on C-days in lunch in room 314, members of the 9-10 math team prepare for future competitions, through solving problems from previous math competitions. Open to new members, Ms. McIntosh is always willing to accept new members who are interested in competing in math competitions if they come talk to her in room 314.
Orchestra:
There are several orchestras in the school and they are divided into two groups the elementary school orchestra groups which meet on Mondays after school in room 168, and the Upper school orchestras which meet on Wednesdays after school in room 168. These groups which rehearse on these days are a great place for students to practice music as it is always more fun to play in a group rather alone which is what this group does in their rehearsals after readying their instruments, rehearse their pieces of music together preparing for upcoming concerts and other such events. For students who want to join, Ms. Borsodi is happy to let new students join. However, a year of practicing their string instrument is needed for youngest elementary school groups and upper school students need to be experienced with their string instrument by playing for a couple of years.
Oceans Aware:
Educating members about biology and science issues such as pollution, the club is focused on creating awareness for environmental issues surrounding the ocean. Throughout their meetings,  members are educated about new biology issues from one of the Oceans Aware members through a slideshow. These slideshows are compiled into a folder which features all the issues discussed in the past. Always open to new members please contact Lauren Gorst @[email protected] and Michael Wernsing @[email protected] if you wish to join.
Oceans Aware  Slideshow Folder Link: https://drive.google.com/drive/folders/0B2ZBH8H_zaY_TGdJVVRFbTVFcEE?usp=sharing
Student Council:
Planners of the 6-8 school dances, and spirit weeks, the student council wish to make school a better and more positive place through planning these events and giving students opportunities to make new friends through meeting other students in the Student Council. Always welcome to new members, the Student Council is ready to accept newcomers from grades 6-8 at their meetings on H-days at lunch in Ms. Neal's room in the Stroth Center.
Acrobatics Club:
The acrobatics club which is a space for gymnasts to grow their talent with adult supervision is a place where gymnasts can collaborate and explore their strengths. Run by Mrs. Cowan, new members are always welcome however only if they have some experience in dance, trampoline, and gymnastics in general. After moving their practices from Tuesday evenings, the group now meets on Mondays after school in the Stroth Center.
I'm in a Band! Music Club:
Started this year, the I'm in a Band! Music Club is club to bring musicians with some experience in music together, to form bands. These bands then work together week in and week out to learn how to perform songs and eventually write their own. After the bands are formed, meetings are arranged with Mr. Zissimopoulos, who then mentors them to help them improve. Still welcome to new members, those who want to join a band or start a new one need to contact Mr. Zissimopoulos @[email protected] Started by Mr. Zissimopoulos, the club was formed for students with a passion in music to achieve future dreams of becoming musicians through performing songs in front of others.
Spanish Club:
During their meetings which are on B-days in mr. Brown's room at lunch for both 6-8 graders and 9-12 graders, members are able to become more culturally aware about the Spanish community through their meetings which allow them immerse themselves in the Spanish culture through a variety of activities like talking to others from Spanish countries.
Student Athletic Council:
Working together to increase the school spirit of the student body, anyone who is interested in sports and school spirit can join their meetings held in the K conference room on B days at lunch for 9-12th graders.
HIV/AIDS Awareness:
This service group which aims to tackle the problem of HIV/AIDS in countries like Thailand and the Kalahari, wishes to help those in countries where this deems to be a problem through educating and helping others. Newcomers from grades 6-12 may join this group on B-days in Ms. Whittock's room 362.
Clean Water Initiative:
A club about providing water and sanitation to those in need, members brainstorm ideas and plan events in order to raise money to help those in need.Those wishing to join, in grades 9-12, may join members in room 366 for meetings on D-days at lunch.
Wilderness International:
Their meetings which are held on Mondays at break in 297 for students in grades 6-12 are a time for them to brainstorm ideas to raise money  and awareness for their mission. Their mission is to protect the temperate rainforests and old grown rainforests in Canada and strives to do that with help from members old and new who wish to help the environment.
French Club:
The French club, is a place for students in grades 6-12 for students to engage in Francophile culture and language beyond the classroom. Watching films, and trying French recipes, members of the french club are more aware about francophile culture and improve their abilities in French. Taking two trips during the course of school year, the first trip, available to both members of the French club and others of the school community, is to Strasbourg at the end of the year around December to visit the Christmas markets. During the second semester around May or June the second trip for members of the french club is taken to francophone or french-speaking country. Run by Madame Lotz, the French Club which meets on E-Days in room 305 for both age groups is always welcome to new members.
Choir Activities:
These four Choirs, that wish to inspire young individuals by singing together in concerts, are for people to meet others with mutual interests and learn challenging music. Through these activities students can gain confidence, and improve their singing and music reading skills.
FIS Singers:
The FIS singers are a select group of girls from grades 9-12 who meet every Monday year round with Ms. Damron after school from 3:30 – 4:45 in her room.  During an average rehearsal they practice music in order to get ready to perform at school concerts.  Auditions for FIS singers are held every year the first Monday after school begins.
High School Honor Choir:
Students from grades 9 – 12, meet on Tuesdays after school from 3:30 – 4:45 to form the High School Honor Choir. Together, with the help of Ms. Damron they practice music for the AMIS European High School Honor Choir Festival. Auditions for the choir are held in September. To attend the concert, your audition after being sent to the AMIS must be accepted.
Boys Honor Choir:
Boys from grades 6-8 audition in June with songs and vocalises Ms. Damron has chosen beforehand to be chosen as one of the six from FIS to attend the AMIS Middle School Boys Festival held in October. In order to audition, boys must be in enrolled in choir for at least half a year. Meetings are held in Ms. Damron's room after school on Tuesday from 3:30 – 4:45 During rehearsal they practice the music for upcoming festivals.
Girls Honor Choir:
For girls taking choir for at least one semester, auditions for the Girls' Honor Choir are in November or December. During rehearsals, which are on Thursday after school from 3:30 – 4:45 the singers have snacks, and eventually practice the music for the festival.  Unlike the other choirs, those participating in Girls' Honor Choir who are not a part of  the chosen 6 to attend the concert, may learn the music with the other girls as Festival Singers. This is as it is not going to the concert that is the most important part of being apart of the Girls' Honor Choir but learning challenging music.
As you can see, there are a wide variety of activities that can be pursued at FIS.  So let's get involved!
View Comments (2)