New York Fashion Week: Most Valuable Fashion Tips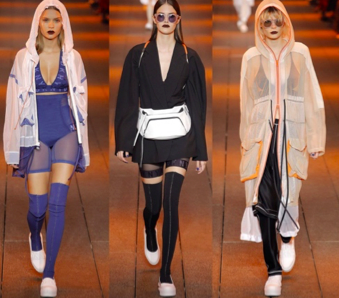 Most people in the fashion industry strive to be able to showcase their designs on any of the main Fashion Weeks throughout the year. One of the biggest of these is The New York Fashion Week, which took place Thursday, September 7th to Wednesday September 13th. The designers who present at the Fashion Weeks truly have a say on the up and coming trends and styles of the next year. Here are five of the most significant fashion tips collected from NYFW17.
Layering is key!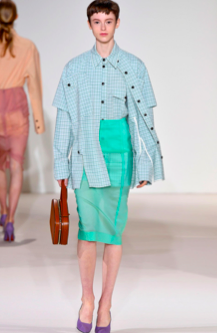 One of the most prominent points found in almost every show during the New York Fashion Week, was their use of layering. This could include the simple layering of a shirt or sweater over a jacket, as Jill Stuart often showcased in her designs. She chose multiple ways of styling such a simple concept, for example modeling a black, exposing cropped top with a long beige trench coat. However, many other designers chose bolder methods of layering. Victoria Beckham, for example, exhibited models, who wore two plaid button-down shirts over each other. The bottom being a long-sleeved shirt, which was styled with a short sleeved top of the same pattern and material. A key element of this type of outfit is to make both shirts loose and baggy in order to ensure the more relaxed look Victoria Beckham was looking for, leading us to the next fashion tip…
An oversized look goes a long way
Many of the stylists presenting their work, incorporated an element of comfort and relaxation into their designs. As said before, Victoria Beckham's models sported a more oversized look. This oversized vibe can come from a t-shirt, trousers, sweaters or even coats and jackets. Billy Reid showcased a Men's Fall/Winter collection, which included multiple different styles of oversized coats. Not only does an oversized piece of clothing provide a sense of comfort, the NYFW also showed that larger attire can be combined with so many different variations of styles; long, skinny fitting pants, short denim skirts, leather jackets and so much more.
One staple piece is a good way to start an outfit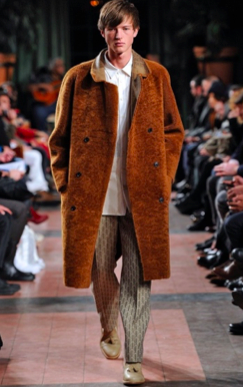 New York Fashion Week 2017 has proven that sometimes, it is best to start simple. Starting with something basic, be it shoes, a shirt or pants, gives room for more creativity in the rest of the outfit. The Row showcased many designs that began with the simplest of staple piece: white sneakers. The Row combined these simple shoes with so many different styles, going from casual wear all the way to fancy dress. Depending on the occasion, of course, an element of simplicity can tie a whole outfit together! As most of us already own white sneakers, looking cat-walk ready will be as easy as tying your shoes.
Athleisure is in style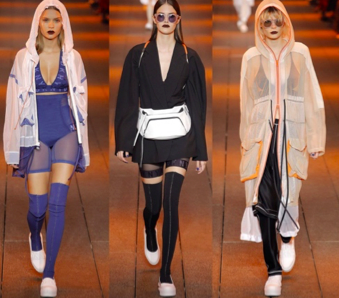 Athleisure has become quite popular in the last couple of years, and the NYFW is only strengthening this trend! Numerous influential designers created looks around the idea of combining athletic style clothing with more leisure situations, such as dressing for school, work or, social gatherings. DKNY, for example, promoted athleisure in their collection. It was defined as "a mix between athleisure and futurism". It united elements such as sports bras and runners jackets with knee socks and forms of lingerie. Athleisure is a trend that is still being developed, but is prominently finding its way into societies. Be the first one in your friend group to rock this look!
Think outside of your comfort zone!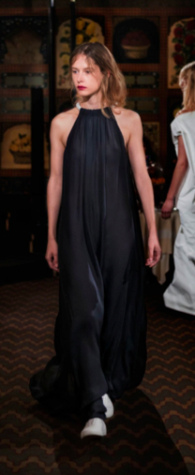 The last, and probably most valuable tip that can be obtained from the most recent New York Fashion Week, is that it is okay to wear something that you've never worn before. Being able to experiment with your choice of clothing is half the fun of shopping for clothes anyways! Next time you find yourself in a clothing store, not sure what to buy or what would suit you, grab something you never thought you would like, or even dare to try on and go for it. You never know how you'll feel about it unless you've tried it. Stepping outside of your comfort zone also means that if you've found something you like, but you're not sure if its "trendy" or if others are going to like it, it's good to not care. Trends are a dynamic concept and are constantly changing, almost every day, so who knows, maybe what you're wearing today that you might not think is "in" currently, will be in a couple of months! Be creative with your styles!
Leave a Comment