Never Will the Cedar's Wood Fall: The Beirut Explosion in Lebanon and FIS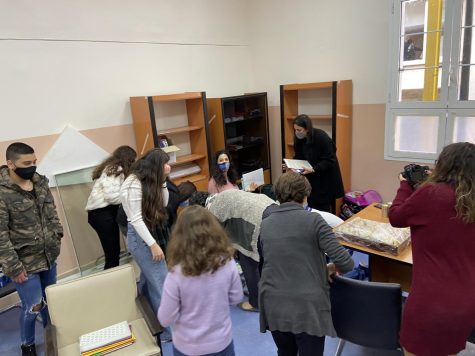 "The fear that the news gave me is categorically unparalleled." Zina Sawabini, hereinafter referred to as Ms Sawabini, Guidance counsellor of 9th grade and 10th grade of FIS, recalled the day of the Beirut explosion, 2020. "I got a voicemail from my mother. She kept asking me what just happened. Then I called my dad. He yelled that everyone is bleeding. Five minutes later, which felt like an eternity, the news started reporting that there had been an explosion. I, actually, was on the rather fortunate side as I could contact my family in a relatively short time. There were so many people who weren't as fortunate and had to wait hours, even days, to find out the fate of their loved ones."
On the 4th of August, 2020, a large amount of ammonium nitrate stored at the port of Tariq el-Jdide district of Beirut, Lebanon, exploded. As the explosion was situated in Lebanon's capital, which is a densely populated city, it resulted in 178 fatalities, 6,500 lives injured or severely threatened, and destroyed homes of 300,000 people (WHO). The statistics, however, can never fully convey the despair that the unexpected devastation set on the Lebanese.
Lily Switzer, an 11th-grade student of FIS, mentions that she was strongly motivated to aid the Lebanese community. "When I found out about the explosion in Beirut, I was shocked. I had known that Lebanon was already facing economic and political issues, so this explosion was even more heartbreaking." When questioned about her motivation to settle down an official service group, she responded that "Initially, I never planned on starting a service group, but Mr Sinclair thought it would be a good idea because of the multiple crises that are going on in Lebanon simultaneously." The status quo in Lebanon seems to prove that misfortunes never come single. Before the Beirut explosion, there were political movements to remove the current government and the Lebanese were suffering from intense poverty. As a matter of fact, COVID-19 has also played a significant role in the hardship the Lebanese people are facing.
Project Cedar is a service group that consists of 36 FIS students. Their mission is to engage with NGOs and schools to provide material support and social connection to support the affected communities. The service group is not allowed to raise money as it is their first year, but Lily managed to collect 10,000 euros from the FIS emergency fund. "My initial reaction was to find ways to donate money to Lebanon. I remember reaching out to Ms Jungnitsch, our CAS advisor, and asking how FIS could help. She told me about an emergency fund, which is money that the school has saved up for emergency cases. In the upcoming weeks, I sent out a request to donate 10,000 euros to Offre Joie, an NGO in Lebanon." Offre Joie is a Lebanese non-governmental humanitarian organisation that is independent of any political parties or religious groups. 
The active participation of Project Cedar members hugely contributed to the successful launching of the service group. 3rd-grade students lend 95kg of school supplies in total. These supplies were delivered to École de Trois Docteurs, a school in Achrafieh, Beirut. Besides providing stationeries, the members also held Zoom meetings with the students of École des Trois Docteurs.
Ms Sawabini visited Beirut and École des Trois Docteurs during the winter break in 2020. She reminisced about the warmth and hospitality of the Lebanese students. "I think that it was an pertinent decision to help the school. They haven't been able to return to school, not only due to COVID, but as a result of the destruction of their school buildings. They were so grateful for the support and connection with FIS. They mentioned that there are innumerable fundings and aids immediately after an accident, but most of the time, they fade away soon. They are impressed at how Project Cedar continues to reach out to them. It seemed that they built a bond with the Project Cedar group, even though the communities haven't ever met in person."
Even under the seemingly hopeless situations, the resilience of the Lebanese is awe-inspiring. They never seem to forget that they should adhere to the community's unity and concord, especially under challenging circumstances. They incessantly reach out to each other and never hesitate to make any movements to help the community. Soon after the explosion, teenagers of Beirut started roaming the streets with brooms to clean shattered glass. Though it may not be as mighty as a sword, the brooms in their hands are enough to show the world that Lebanon is on its way to overcome its adversities. One day, they will stand above the fiascos that let them down, just like the invincible Cedar's wood: never defeated by the winds nor the downpours.
View Comments(1)