Want Better Grades? Move a Little!
Hang on for a minute...we're trying to find some more stories you might like.
Students Menia Kappus and Leon Caswell from FIS Investigated the effect of 0%, 20%, 40%, and 60% of the test subject's maximum heart rate on their memory in search for potential strategies for more efficient learning experiences for IB students.
Taking their background knowledge, that maintaining healthy brain cells and synapses help the brain operate efficiently, the students hypothesized that through the increased circulation of oxygen brought about by cardiovascular exercise and the consequential increase in heart rate will allow IB students to have a boost in short-term memory.
To put their hypothesis to the test, the students used the following method:
The participants wore a heart rate monitor controlling their heart rate and memorised 20 words and wrote what they remembered down. The participants then ran/walked on treadmills to reach the target heart rates. The target heart rates changed for different groups, ranging from 0%, 20%, 40% and 60% based on the heart rate formula. After they reached their target heart rate they memorized a different list of 20 words and wrote these down. The data collected was put into a table and processed into a graph showing the amount of words memorized before exercise versus after exercise.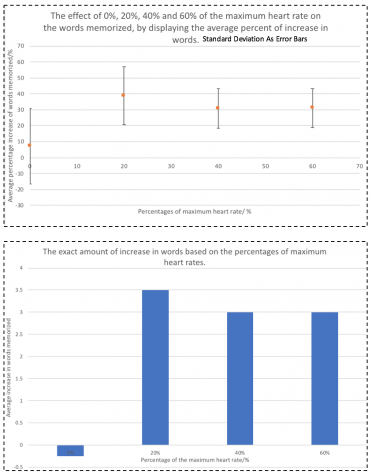 As can be seen in the charts, the increase in the participant's heart rate to around 20% of their maximum heart rate lead to a big increase in short term memory capacity (≈40%)
In conclusion, based off of the data gathered and supporting data collected by other researchers, such as Harvard Medical School, exercise benefits the brain in multiple ways. In this case, short term memory was improved. The amount of words memorized increased up to about 40% by just one to two minutes of light exercise. Although the effect of oxygen-rich blood increasing the memory threshold is temporary, regular exercise creates several long term improvements in cognitive function, such as the maintained size of the hippocampus and the release of helpful preservative chemicals like BDNF.
Studies on mice by Harvard medical school support this claim, as their results demonstrated that the mice who did regular exercise were able to find their way through a labyrinth much easier than those who did not. This shows that exercised individuals were able to process information more efficiently and retain it. In general, these findings are extremely important and helpful for not only IB students, but anyone who needs to study more efficiently. Even if one isn't an athlete, by doing  something as simple as speed walking can benefit the brain and lead to a more efficient learning session.