Fascinating Breakthrough on Catchers Glove size in Baseball
Hang on for a minute...we're trying to find some more stories you might like.
Playing catcher is the most difficult position in baseball, making it essential to find new ways to make this gruelling position easier. Being able to catch pitches close to 100 MPH that your palm starts swelling up after the third inning; getting into the "squat" and be able to constantly maintain that position receiving pitches along with foul tips that can hit any part of your body.
Framing is a skill that has increased in importance over the past decades. Framing is a technique catchers use to make a pitch that is a borderline ball or strike, look like a strike to the umpire. It is a subtle movement in the wrists that drags the ball towards the strike zone. An all star catcher such as Yadier Molina can transform balls into strikes on a massive 3% of pitches caught. That means Molina's framing has saved his team 47 runs per 162 game season. The difference in a good, and bad framing catchers salary is also extensive. Marlins starting catcher J.T Realmuto makes 482,000 USD whereas Yadier Molina is making 15 million USD. To find a more effective way to frame pitches, glove sizes need to be tested to see if there is a specific size that yields to most frames. If a positive correlation is found, then this could help all catchers win games for their teams.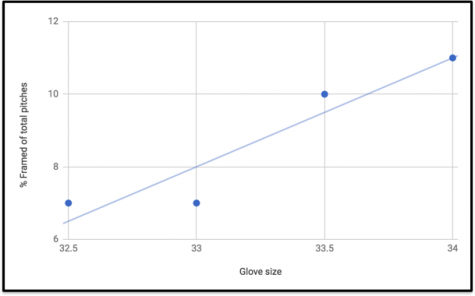 This data shows the total number of  pitches, balls, strikes and framed pitches. The percent of balls, strikes and framed pitches were also added to help visualise the data more clearly. On the right most column are the catchers that were analysed.
The aim of this experiment is to investigate the relationship between glove size and balls turned into strikes. I hypothesised that as gloves size increases, more balls can be turned into strikes. The reasoning behind this is because the weight of the glove will not greatly impact a pro baseball players reaction time. The bigger the glove is, the more a pitch that is between a ball and a strike will look like a strike. The results that were collected show as glove size increases so does % of total pitches. The reasoning behind these result are because all catchers in the MLB have a lot of muscle mass, so the increase glove weight won't make a difference.  When a ball is thrown, and it is in between a ball and a strike, the umpire is more likely to call as strike because this glove can cover a larger area with less movement. Although when a chi squared test was conducted, it resulted in a p-value of 0.69, meaning that there is no statistical difference between the values – and the Null hypothesis has to be accepted. According to the graph, my hypothesis is supported – although a chi squared test disproves this. Overall to collect more accurate data, more catchers would have to be analysed in order to fully prove my hypothesis.